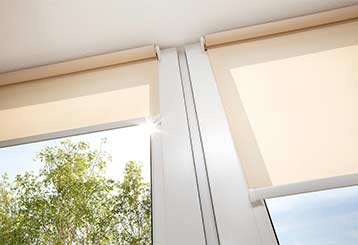 So what is there to tell about a company like ours? To be honest, plenty. But let's talk about you, and what you can gain from getting in touch with us. You're here because you're looking for someone, preferably near San Diego, who can offer you high quality blinds and shades for an affordable price. Right? Well, let us put you at ease. You found the right company.
Light Filtering Shades
Sheer. This word gets thrown a lot, and we're not talking about as a misspelled variant of buzzing wool off sheep. Corny jokes aside, sheer shades are a very popular choice for home and business owners who want a simple yet versatile way to control sunlight. Using natural light to illuminate a room's interior has plenty of benefits, but unfiltered sunlight can have adverse health effects with prolonged exposure. That's why you need shades that can let light in, filter out the harmful UV rays, and reduce glare, all at the same time. Our sheer shades utilize both a layer of fabric and vanes to give you maximum control and adjustability, making them perfect window covering additions for bedrooms, kitchens, and virtually any other type of room.
Style Without The Effort
Speaking of window treatments for your bedroom, some extra décor goes a long way, but that's not the only factor to consider. Blackout blinds are a must when it comes to sleeping areas, but which material should you choose for them? Well, you could go with wood, although that does require more maintenance. Here's a solution – faux wood blinds! You can get the blackout conditions you need, the beauty and texture of timber, with none of the extra upkeep that would otherwise go with it. Blinds & Shades San Marcos offers a wide variety of design options, with an emphasis on customizability.
Professional Blind and Shade Installation
Whether you're interested in a hand-drawn product or motorized shades, setting up the new coverings should probably be something you leave to our experts. It's important that your new shades aren't just custom made to fit, but that they actually do fit, perfectly, from day one. When it comes to electric blinds and drapes, you'll definitely want the installation to be carried out by professionals, to ensure you don't have to deal with wiring problems a day, a month, or a year later.
Picture Perfect Blinds and Shades
By contacting our team here at Blinds & Shades San Marcos, you can guarantee that your new window treatments will look exactly how you want. Have us send an expert over for a free in-person consultation and see what wide selection of colors, materials, and designs you have to choose from.
Let Us Answer Your Questions With a Free Consultation:

High Quality Materials

Custom Made Drapes and Shades

Professional Installation Services

Somfy and Lutron Motors and Controls