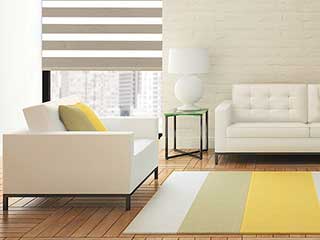 If you want the light filtering options of sheer shades and the complete darkness of blackout blinds, then striped window coverings are the happy medium you should consider. Layered shades have a unique high tech look that can contribute to the décor of both commercial establishments and residential properties.
It's All In The Design
The striped slats of layered shades are the reason why these window coverings are so easily adjustable. The entire shade consists of two sheets of fabric anchored on a loop that covers the size of the window. Each layer has sheer and opaque stripes that overlap the counterpart layer on the other side. When sheer stripes meet opaque stripes, the opaque color takes charge and blocks sunlight from entering. When sheer meets sheer, light filters through, but the fabric still reduces glare and blocks a huge amount of UV radiation. The results are a striped light pattern that illuminates and brightens the room with natural light, but doesn't allow for people on the outside to get a completely clear view inside.
Design Your Own Set
In spite of the somewhat limited design, there are still a lot of customization options. You can choose whichever color pattern you want for the stripes, and you also have a selection of different designs you can add to that. The color you choose can allow you to add a touch of flavor and shade (the color kind) to the ambiance of the room. You can also choose different types of fabric that have more sheer or opaque builds. This can make the layered shades let more or less light in accordingly.
Automation For The Win
One of the more popular enhancements of custom made layered shades is to combine them with Somfy or Lutron control and motorization methods. These products can allow you to control your motorized layered shades with a remote handset, with a wireless device such as a tablet or a smartphone, or with voice commands. There's also the possibility to add special sensors to create self-adjusting layered shades that rise and descend based on indoor temperature and brightness levels.
Layered Shades Providers Nearby
If you decide these striped window coverings are what you want, then contact us at Blinds & Shades San Marcos for a free expert consultation. We're the company to call whether it's custom made layered shade that you're after or some other type of window treatment, manual or automatic.
A few other custom made coverings we offer:

Bamboo Shades

Motorized Curtains

Solar Shades

Aluminum Blinds