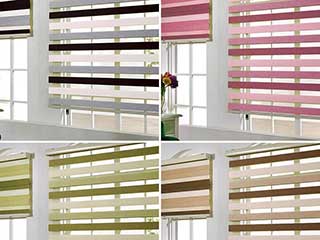 As soon as you see wooden blinds, you can feel the sense of classic beauty they instill. But some well-made faux wood blinds will have a similar effect. In fact, exceptionally well crafted faux wood window treatments will be hard to distinguish from real wood ones. Still, each type presents different pros and cons. Understanding the benefits and disadvantages is worth it if you're considering getting either option. Blinds & Shades San Marcos, the nearest source of faux and real wood blinds, is always happy to dish out information for free. That's the reason for this article.
So What Are Real Wood Blinds?
Well, the name pretty much says it all. Wooden blinds are often made from North American hardwood, usually the product of walnut, oak or even cherry trees. The main pros of wooden blinds are their durability and beauty. They can be stained and painted in all sorts of colors, and they'll keep their rich texture. This allows them to match all sorts of designs and decors, and complement furniture and other features of the room. However, wooden blinds can suffer from moisture and humidity and will need regular maintenance. They also tend to cost a little more than faux wood blinds.
What Are Faux Wood Blinds Then?
Again, this is pretty self-explanatory. These window treatments are ones that mimic the appearance and feel of real wood but are made of other materials. Usually, vinyl, PVC and composite wood are used. Faux wood blinds are painted and stained to look as close to the real thing as possible. They're often able to also mimic the texture, with the slats possessing a wooden exterior with a special protective coating. Or, they're made entirely of PVC. Faux wood window treatments can be durable as well, and unlike wooden blinds, rarely suffer from moisture sensitivity. These moisture-resistant blinds are great for humid environments where you want the look of wood without the added maintenance needs. Faux wood blinds can also cost less than real wood ones.
Are Faux Wood Blinds Better Than Hardwood Blinds or Vice Versa?
It's hard to say unequivocally that one type is better than the other overall. As you can see, faux wood and real wood blinds each have their pros and cons. If you're looking for a cheaper option that doesn't need as much maintenance and can withstand moisture better, then faux wood blinds can do the trick. If you're looking for something with more texture, beauty and a rural, classic, appeal to enhance a themed décor, then wood blinds may work better. Of course, these are decisions you can consult with Blinds & Shades San Marcos on. Ensure you're making the best choice for your needs by seeking advice from the nearest faux and real wood blinds experts.
Choosing The Right Real or Faux Wood Blinds For You
If you're looking where to buy wood blinds or faux wood ones, look no further than Blinds & Shades San Marcos. With us, you get nearby window treatment pros to help you understand the pros and cons of each type of blind or shade you're interested in. You can schedule a free consultation (yes free!) to have an expert come to your house and provide guidance and advice on faux and real wood blinds, or any other window treatment you're considering.