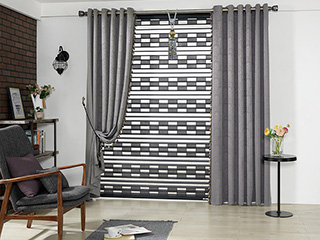 Each type of window treatment, from shades to blinds to curtains, has distinct features that make it better at some things, and less optimal for some applications. If you want to combine the favorable qualities of all coverings, then sheer shades with fabric vanes are a perfect choice. These window covers mix the pros of blinds and regular shades into one single multi-functional cover option.
Easy Adjustability For Maximum Control
The sheer shades work is by combining the structure of blinds with the sheet fabric layer of usual coverings. You have a layer of fabric that can roll up and down and cover the entire window, and over that you have an arrangement of fabric vanes, each one adjustable. This allows you to control exactly how much sunlight filters through. You can bring the sheer shades all the way down and set their vanes closed for maximum privacy and sun blocking. You can do the opposite, raise the sheer shades all the way up and set the vanes to the fully open position. Or you can choose any position in between these two endpoints. Now that's variety and nuance.
Variety In Design
Because sheer shades consist of both a sheet layer of fabric (at least one) and a set of horizontal vanes (or vertical ones if you want) they can be customized in a lot of ways. You have the option to choose any color or design pattern you want, as well as fabrics of varying levels of opacity. This means your custom made sheer shades can match virtually any type of décor and complement it. They're great for residential and commercial properties, from office windows to kitchen portholes.
Motorized Sheer Shades
The nuance and functionality of sheer shades mean that you might be tempted to fiddle with them regularly to set a precise mood. There's no better way to do this than to have them automated. Motorized sheer shades can be controlled using remotes, wall switches, smartphones, and even voice commands. Somfy and Lutron shade control methods even allow for self-adjustment sensors that sample temperature and brightness levels for optimal settings all year round.
Sheer Shade Sellers Near You
No need to look very far for window treatment experts. Whether manual or motorized, custom made sheer shades can match any need and preference you have. Contact Blinds & Shades San Marcos for a free consultation to help you choose and design your new set of sheer window coverings.