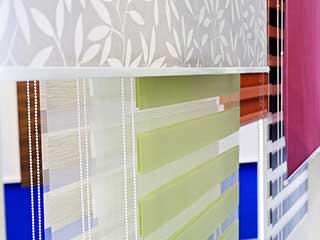 Living rooms, kitchens, bedrooms, and office or restaurant windows all need to create a different sort of atmosphere, and your personal taste isn't irrelevant either! Here's a list of factors you should take into account when choosing what sort of window shades or curtains you might want to put where.
Consider The Room's Interior Décor

The most important thing to think about in any branch of interior decorating is "what do I want being in this room to feel like?" If you're adding shades to a bed or guest room, you'll want something relaxing; dark, soothing colors that don't call attention to themselves and are easy to sleep in front of. For a living or dining room, perhaps something diaphanous and inviting, or else bright and impressive? If this is a business rather than a home, what sort of feeling do you want customers and employees to have, and what colors and designs evoke those feelings?

Consider The Scheme

Coinciding with the above is the question of what the rest of the room looks like, or what you're planning for it to look like. Clashing colors are never a good idea, unless you're going for an avant-garde statement, but complementary ones are rarely a bad one. If you let the sunlight come in through yellow, crimson, or blue fabric, what will that do to the colors of the walls, floor, and furniture? What about when the shades are open?

Leading The Eye

Anything that stands out in terms of color will naturally draw the eye toward it. How much attention do you want people to pay to this particular window? Having some shades or (especially) drapes around the window in a bright hue or a more vivid shade than most of the room's contents is going to make it the center of attention. If you don't want that to be the main focus, you may want to go for something more subdued. Remember to think about the look from outside as well as inside, especially if this is for a commercial establishment and you want to attract a certain clientele.

Consult a Professional

Learn more about blinds, shades, and other window treatments by contacting Blinds & Shades San Marcos or by reading more blog posts. Our recommendation would be to schedule a free consultation with an expert near your location, but do as you please.