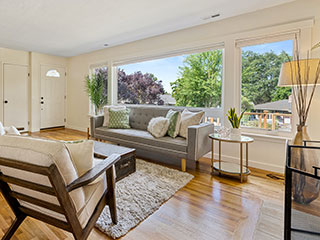 With the innovations of the past decade, automatic window coverings have become popular in San Diego and all nearby areas as well. Getting motorized blinds for bedrooms or kitchens provides an efficient covering solution for windows that provide complete convenience every single day. Choosing to get custom made motorized blinds lets you ensure total coverage of the surface area. This helps a lot especially in spaces where you need more privacy, like bedrooms, office spaces, and so on. Sleep is another important factor that can benefit from this. Our selection of motorized blackout blinds offers bedrooms ideal conditions for an uninterrupted sleep all day long. Having become so popular, motorized blinds and window shades only continue to grow in presence each year. And with such a variety of choices, you can find something to match and décor at affordable costs.
Smart Somfy Blinds Motorization Features
For efficient performance and additional utilities, automatic window coverings can use all sorts of special remote control features. When you need to have your motorized blinds open and close around certain times each day, you can employ a timer schedule system for your electric blinds. This can help you make the most out of natural lighting. And in addition to efficiency, this use of sunlight also helps you save money on climate control indoors. Somfy motorized blinds provide reliable automatic window covering solutions for more than indoor settings. Awnings and patio covers can also utilize motorized remote control systems to offer you shade at the push of a button.
Motorized Window Coverings In Custom Sizes & Designs
Matching the look of the motorized blinds to the rest of the interior décor adds a lot. After all, you don't want something that sticks out like a sore thumb and ruins the aesthetic. Motorized curtains and draperies can add elegance to the room. And with the remote control features, you can draw the motorized curtains aside without lifting a finger. This can also work with coverings like Roman shades, famous for their elaborate range of styles. You can even get motorized sheer window shades that provide sunlight diffusion to the ambiance of your San Diego home. This lets you improve upon décor with colorful sunlight that doesn't glare and without harmful UV rays either. All types of window coverings can utilize remote control and motorization features to upgrade them into something high-tech and efficient. Discuss more options with our experts during a free estimate consultation.
Affordable Motorized Blinds For Your San Diego Windows
Price often comes to mind when discussing motorized window coverings. And true, they do tend to cost more than their manual counterparts. However, the many benefits and conveniences provided by motorized blinds and shades for your San Diego property make them worth it, and then some. Saving time translates to saving money in the long run too. And with such beautiful selections of designs and colors, it's easy to find motorized window blinds and shades that complement your style. You can get more information on motorized window blinds and more by booking a free consultation with our local window covering designers!