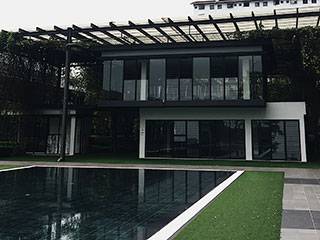 You can have too much of a good thing, sometimes. Outdoor property fully exposed to the elements is one example of this. Patio covers pop up canopies, and outdoor shades all help you keep the worst rain and sun off your deck without ruining the outside benefits. Our custom made products include everything from tarp sails to motorized awnings, and you can have them installed at low costs. Our San Marcos patio cover installers can accommodate all sorts of custom designs and ideas. With help from professional motorized outdoor shade specialists, you can turn your backyard or porch into an upgraded version both in terms of aesthetics and its functional use.
Motorized Patio Shades
Outdoor shades are often big, cumbersome devices, and rolling them out by hand can take a bit of effort. Motorized patio covers circumvent this issue, and make the shades practical even for large spaces. They can be high maintenance, depending on how efficient the structure and insulation are, but they make shading feasible where it otherwise wouldn't be. Your motorized patio shades can plug into an existing power supply, or contain an onboard battery or solar cell. Getting new patio covers with motors lets you change the amount of shade outside at will. Your San Marcos patio, covered with a motorized canopy or other shading solutions, can become a lot more aesthetic too. Motorized patio shades contribute to the overall look of the outdoor lounge space as well. They provide a functional way to shade your patio while also improving its décor.
Adding Motorized Awnings To San Marcos Patios
The classic variety of outdoor shades stretch out from the side of an existing structure. They sit on either rigid frames and retract along them by roller, or on extendable articulated arms. Opening and closing a manual awning is enough trouble that many shopkeepers and homeowners decide to leave them up even in good weather. Motorized awnings take care of this problem, and also let you support larger shades to cover playgrounds, lawn sections, and decks. Many outdoor shade structures can utilize motorized awnings to improve their functionality. And with the right design choices, these automatic awnings will also boost the decorative look of the cover.
Motorized Freestanding Patio Covers
If you need to cover a porch or patio that's a little ways away from the house, you have two options. The first is a canopy tent. The second is a set of freestanding patio shades. These patio covers stand on their wall or set of support columns and rotate or extend when you want the area near them covered. These are heavy-duty contraptions, so you'll most likely want them battery powered. With wired and wireless motorized patio cover options, you've got all sorts of possibilities when it comes to creating shade in the patio or porch. You need to choose the best option for your needs (and budget). Therefore, consulting with our San Marcos patio shade specialists can help you focus on the most suitable options for you.
Manual Patio Shades And Covers
For all the benefits that motorized patio shades offer, there's still something to say for the old fashioned manual kind. Manual shades are more work to adjust, but cheaper and lower maintenance. The simplest of these patio covers would be sail shades, which you can mount anywhere with a few hooks and couplings. On the other end of the spectrum, you have heavy awnings and intricate pop-up canopies. Cheaper than their motorized alternatives, manual patio covers can still offer convenient methods of controlling outdoor shade.
Adjustable Sail Shades
Most outdoor shades have a frame that binds them in place, at least on two sides. Sail shades don't have any rigid frames, instead relying on tension to hold themselves in place. In some cases, especially for covering larger yards and patios, you can combine sail shades with static frames just to give you some better attachment points. When you take down these coverings, there's nothing left overhead at all. Many choose to get shade sails for San Marcos pool decks and other open spaces. If you don't have nearby posts or columns, you can have the shade sails stretch over quite a large area.
Pop-Up Canopy Tents
Canopy tents are exactly what they sound like. You can set them up on any courtyard or deck, and they protect the space from above as well as one or more other sides. Canopy tents can be made to order for yards and patios of specific sizes, but these structures are easier to relocate than most outdoor shades. A more easily portable option, pop up canopy tents for San Marcos patios provide a great solution for some. It all comes down to what you need. For those seeking a simple, pop-up covering solution as a canopy, this choice can prove worthy.
Patio Covers Custom Made For You
We provide motorized patio shades and manual outdoor covers of every style to all areas near San Marcos. From pop up canopies to motorized awnings and all sorts of attached or freestanding patio covers. Whether for your porch, backyard, or garden, our local patio cover installers can help you find and fit the perfect covering solution. Looking to get a free estimate on patio shades, motorized or otherwise? Go ahead and give us a call to schedule a free consultation!