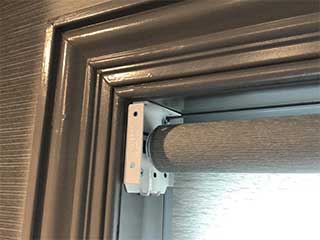 The annoying manual strings for shades can now be a thing of the past with our high-quality motorized shades! Now all you'll need is a wall pad, remote control, or even your smartphone to adjust them with complete ease. You'll wonder how you got by without them for so long!
Take Care Of High Windows
Some windows are simply too high up to be reached with manual blinds or shades, which means you had no choice but to let the sunlight pour in and heat up your home, damage your furniture from exposure, and otherwise. With motorized shades, this no longer has to be the case! Now you'll be able to open and close them with a touch of a button to better insulate and protect furniture from sun bleaching.
Timers To Tend To Everything
Rather than need to take the time to open or close all the shades around the home yourself according to the time of day, now your motorized shades will be able to take care of themselves! Using timers, you can set them to open when you get up, close when you go to bed, or any other adjustments that need to be made throughout the day. All without you needing to be around! This goes a step further if you have a smart home system to connect it to. Then, it can change them according to the temperature and how much light is coming in, which helps save on energy too!
More Kid Friendly
Strings on shades can not only look like tangled messes, but they can be dangerous to children who get their hands on them. Rather than allow the risk of a choking hazard, motorized shades will remove this problem completely. They move quietly too, so there's no risk of waking them!
Contact Our Professionals Today
Whether you'd like to find out more about our products, or want to schedule your appointment, just give Blinds & Shades San Marcos a call now! Our San Diego team would be happy to lend you a hand with all of your various window covering needs. You'll be glad that you did!