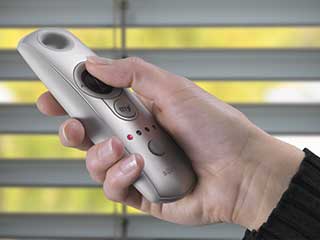 Automatic shades, blinds, and drapes might sound like a frivolous expense to some, but that misconception is changing, and for good reason! Automatic window treatments aren't just more convenient, but also safer, more efficient, and even more affordable in the long run. That's right. Motorized shades can actually end up saving you money, rather than just costing more than a simple cover. The utility and functionality you get out of them has plenty to offer both residential and commercial properties, and some benefits may even surprise you. Here are the three biggest reasons why people are choosing to switch to motorized blind and shade options.
Safety For Children

Window cord safety has been a nerve-wracking concern for family with babies and small children for hundreds of years. Keeping the long, looping cord lengths out of child reach is something you need to remember every single time you roll your blinds or raise and lower your shades, and a precocious toddler can get ahold of these choking and strangulation hazards despite even a conscientious parent's best efforts. Motorized window treatments remove this risk entirely; children are far less likely to choke on a wall-mounted switch or a remote control handset, with no need for constant attention and anxiety.

Time And Manpower Savings

Failure to adjust your window shades at the appropriate times of the day can have some very expensive repercussions when prolonged sunlight or heat convection come in contact with your furniture, your wallpaper, and your electricity bill once they tally up all the air conditioning and heating costs that the shades could have prevented. If you often leave home unexpectedly, or have a large property with enough windows to keep track of to make the task a long and involved one, motorization provides the answer. You can adjust each blind from across the building by remote, or program them to move automatically at certain times of day or in response to heat and light conditions.

Your Own Memory

Everyone forgets to adjust their shades sometimes. No matter how scrupulous you are in your daily routine, sometimes – especially if you have a lot of windows – you'll leave something opened or closed when you shouldn't have. Over the course of a few years, the combined costs of furniture damages, air conditioning or heating, and ruined drywall or wallpaper can easily overtake the one time expense of a reliable, programmable device that can prevent all of this. Motorized shades may cost a little more than corded or cordless blinds that you operate manually in the initial stages, but down the line, they'll pay for themselves and then some.
Remember To Ask a Pro
If you're unsure as to whether or not motorized blinds and shades will suit your needs, simply ask a nearby expert. Learn more about blinds, shades, and drapes by reading our other blog articles. Or, call Blinds & Shades San Marcos today to schedule a free consultation and learn all you need or want to know.