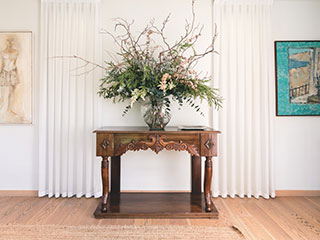 For utmost protection from sunlight, as well as complete privacy, blackout curtains offer a fantastic choice. With room darkening window coverings, you can plunge the room into darkness, keep outside eyes from peering inside, and even control indoor climate better. Blackout curtains have become incredibly popular for San Marcos bedrooms and many other spaces. You can choose different colors for your window curtains to get coverings that also match well with the interior décor. With custom sizes and designs for blackout window curtains and drapes, you've got a covering solution with multiple benefits. You can get blackout curtains custom made to the measure of each window's dimensions. This way, you ensure they provide the best solution for your needs.
Blackout Curtains For Bedrooms
For ideal sleep, you need darkness. Our brains are hardwired to recognize sunlight even while our eyes are closed. Even artificial lights can keep us awake needlessly, even with an entire blanket wrapped around our heads (and let's hope it doesn't get to that). Blackout curtains prevent sunlight or light from streetlights at night to enter the bedroom. This makes sleeping conditions ideal for falling asleep as well as staying in a dormant state. Sleep is so hugely important for our health, so blackout window curtains become a recommended investment to San Marcos area bedrooms and all other nearby cities. They also can add decorative touches to the room, with various designs and patterns. Blackout bedroom curtains provide a fantastic choice for these and many other reasons. And in custom sizes, you can ensure complete coverage of any window.
Motorized Window Curtains
Whether for efficiency or simply convenience, motorized curtains for windows give you tremendous results. For once, you have an easy and quick way to control sunlight entering the room. You just push the button and the motorized window curtains will move to conceal or reveal the opening as you wish. Blackout curtains motorized provide the maximal benefits of the room darkening qualities of these window coverings. Imagine getting in bed, all nice and warm, to then realize suddenly you didn't draw the curtains closed. Getting out of bad, especially when you're comfortable and tired, becomes a major drag. Well, with motorized blackout curtains, you benefit from complete sunlight control, remotely. Push the button and your motorized window curtains will take care of the rest.
Drapery For Living Rooms
With stylish choices, you can utilize window curtains to improve décor inside living rooms in many styles. After all, draperies take up little space but can have an eye-catching quality that attracts attention, even subconsciously. Living room window curtains help to set the mood. They flaunt colorful designs or simple blank canvases. You can choose which living room curtain choices serve your needs best. And with our US-based manufacturers, the turnaround on custom made window curtains stays short and sweet.
Controlling Temperature With Curtains
One aspect of blackout window curtains is their thickness. But an often forgotten aspect is thermal insulation. With thick window curtains, you can better reduce heat transfer, keeping the room at the ideal temperature you set. Blackout curtains for your San Marcos windows will provide excellent methods for controlling sunlight. And this applies not only to light itself but to heat as well. Thick blackout window curtains will help insulate your bedroom, office, or other rooms from the outside. This lets you enjoy the indoor climate you prefer without overworking the AC system.
Kitchen Curtains, Anyone?
For areas with food preparation, you might require something a little more specific. Curtains and drapes in your San Marcos kitchen need to suit the specific needs of the room. Meaning, some waterproof or at least resistant materials, as well as potentially fire retardant fabrics can go a long way. Besides the safety aspect, as that can be determined by the position of the windows, you should also consider sunlight diffusion. Sheer kitchen curtains can let in soft, filtered sunlight, letting you utilize natural lighting and its pleasant touch. Glare is annoying anywhere, but especially when you're busy doing something. Therefore, your kitchen window curtains need to reduce or eliminate glare but still let in diffused sunlight so you don't have to rely solely on artificial lamps and such.
San Marcos Blackout Window Curtains – Local Source
Use our experienced window treatment installers to get new blackout curtains custom made for your apartment, office, condo, or other properties. With beautiful designs and all sorts of fabrics, you can get affordable window coverings that meet any need you have. We can also make white blackout curtains for your windows to complement specific décor choices. Every option is possible with the right motivation. So give us a call and book a free estimate on cheap motorized blackout window curtains for your San Marcos business or home.