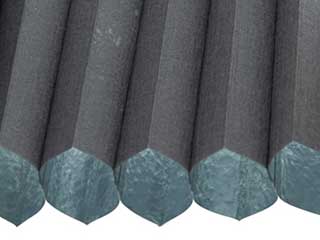 Nobody wants to pay more than they have to on energy. Having your HVAC unit work overtime to maintain a pleasant indoor atmosphere will gradually result in more wear and tear, and you won't just find yourself with an inflated energy bill, you'll also have to spend money on repairs. With cellular shades, you can mitigate these things and make preserving a cozy indoor environment much easier.
More Than One Job
Cellular shades, called that due to their cellular structure (sometimes referred to as honeycomb-style) are more than just window coverings. They can contribute to the overall aesthetics of the room and will do a good job filtering sunlight or even blocking it out, depending on the fabric used to make them. But the main purpose of cellular shades is to enhance the insulation of the room by buffering the windows. The cells form a sort of barrier that will make it harder for heat to escape or encroach inside. This is great for both winter and summer months, as the indoor environment won't be as easily affected by outside weather.
Still Beautiful Covers
Although the main purpose of cellular shades, as mentioned above, is to serve as extra thermal insulation, they're still a very popular décor enhancement. While not as varied and customizable as other types of window coverings, cellular shades still have plenty of options to offer you. You have your choice of sheer and opaque fabrics, different sized cells and single or double (or even triple) layers to pick from. You can choose room darkening fabrics for a bedroom with a design pattern that complements the elegant décor of the surrounding walls. For office spaces, you can opt for the same, or for sheer cellular shades that will allow you to let some sun in without having to deal with harsh glare reflecting off your computer screen.
Create The Cellular Shades You Want
There's definitely an option for everybody with these insulating window coverings. You can easily design a set of cellular shades that will meet all your needs and won't cost more than your budget allows. How do you start? It's simple! You contact Blinds & Shades San Marcos for a free consultation at your home or office, and our experts will explain everything you need to know and show you a vast range of combinations and customization options. Call today!
Other available products:

Faux Wood Blinds

Luxury Window Blinds

Blackout Blinds

Pleated Roman Shades