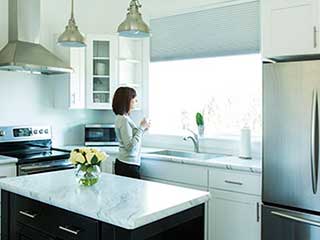 Window covers have more than one role to play. They need to shelter your home's interior from harsh sunlight and provide a light diffusing barrier to make it possible for you to utilize natural light but also stay protected from UV rays. All this is true. But blinds and shades have other purposes, one of which is to enhance the surrounding décor with an elegant and classy look. Roller shades are a straightforward window shading option that offers you an easy and convenient way to control sunlight and improve the overall look of a room simultaneously.
What Are Roller Shades?
These window coverings are as straightforward as it gets. They consist of a sheet of opaque or sheer fabric attached to a round metal fixture. The bar is set up above the window and the shades roll up and down to cover or reveal it as needed. Roller shades are very easy to use and don't require elaborate anchoring. For those interested in safety and childproof blinds, you can opt for cordless roller shades which leave no dangling strings or ropes that can pose an entanglement risk. The roller shades can be raised or lowered as you see fit, revealing or obscuring part of or the entire window as needed.
As Beautiful As You Want
The simplicity of roller shades doesn't mean that customization is limited. You can choose any type of fabric and any type of design you want to enrich their light filtering capabilities and their vibe and look. Sheer roller shades, for example, can be great for kitchen or living room windows, where you want some light to filter through without harsh glare. Blackout roller shades work best for bedrooms and office spaces where privacy is needed on a regular basis. Boardroom windows, for example, can greatly benefit.
Custom Made Motorized Roller Shades
It's very important that the window treatments you get are made to the specific size of each intended window. This ensures that light won't come through from the sizes when the shades are pulled down. With motorized roller shades, you don't need to do any pulling or adjusting of the window coverings. It can all be done automatically, in various ways, including smartphone control, voice commands, and even automated schedules for raising and lowering the motorized shades.
Find The Perfect Fit For Your Windows
Set up a free consultation appointment with one of our experts here at Blinds & Shades San Marcos and see what types of options and combinations you can choose. From room darkening to sheer, to manual or motorized, your new custom made roller shades can look and work however you want them to.