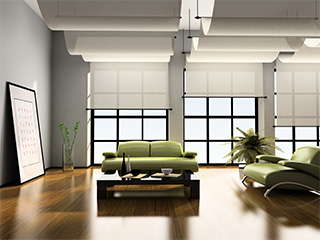 When choosing new shades for your home or business, the sheer variety of options can be a little staggering. Roman shades have been one of the more popular options for a very long time, and they originally can be dated back to the ancient times of Rome and Caesar. This type of window covering has lasted through the centuries and really broke into the mainstream in recent decades, and for good reasons too.
A Curtain-Shade Combo
Roman shades (sometimes referred to as blinds) are really a combination between drapes and curtains and regular window shades. They can be combined with valances and other decorative features to enhance the room's interior décor even more. Roman shades themselves come in a variety of designs, from pleated to flat and even fishtail or looped. You get to decide exactly how you want them to look, as well as what color and fabric they'll utilize.
As Much Light Control As You Want
Because Roman shades can use all sorts of different fabrics, you have a range of options when it comes to privacy and light blocking. Thicker fabric shades will be great for bedrooms and other areas where blackout conditions are ideal. Light filtering Roman shades are excellent if you want to have the option for privacy without compromising natural lighting to get it. Choosing the right fabric for a specific room's needs is vital when it comes to getting the most out of your window shades.
Unlike Their Counterparts
Roman shades don't roll or twist the way normal blinds and shades do. They fold into precise sections and stack over the window or along its upper side. This makes them very attractive to home and business owners who want to maximize the décor enhancement they get from shades, as the stacked Roman shades will still be visible and their beautiful design will still contribute to the room's décor. When heavier fabrics are used, however, the stacked pleats can block out some window real estate gradually, so this should be considered during the planning and designing stage.
Motorized Roman Shades
While cordless Roman shades are definitely an option, especially for those with a young child who are worried about the risks of dangling cords, there's an even better and cooler way. Automatic window coverings are quickly becoming more than just a trend, and smart home systems have already started integrating motorized window blinds and shades. By motorizing your Roman shades, you can control them in various ways, including voice commands or by using your smartphone. Different sets of hardwired blinds can even work in unison, which, when the window treatments in question are Roman shades, can really look amazing.
Plenty More to Learn
There's no shortage of possibilities with custom made Roman shades, as their versatility is one of their strongest pros. To learn more about all the different combinations and customization options, contact Blinds & Shades San Marcos for a free consultation with a nearby expert who'll happily answer all your questions. The beautiful Roman shades you're looking for are just waiting to be created.