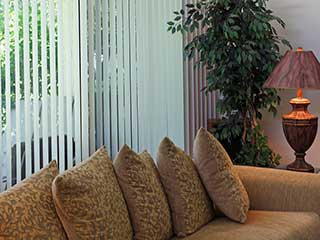 These are a hot item in Southern California, and here at Blinds & Shades San Marcos, we make a point of delivering the best products at the lowest prices. Our vertical blinds are custom designed with the buyer in mind, so you can get exactly the blinds you want for your home or business. There are loads and loads of options. Have a look below for an idea of what we can do, or just call us and ask in person! We offer free estimates for vertical blinds anywhere near the San Marcos area. Feel free to get in touch anytime to book a consultation appointment.
So, What Exactly Are Vertical Blinds?
Most blinds have swiveling panels that run from side to side across the window, and a mounting frame that you can slide up or down. Vertical blinds are the exact opposite. The frame (or rollers, as the case may be) moves from side to side, while the swiveling panel blinds themselves run vertically. In general, you'll want vertical blinds for windows that are much longer than they are tall. Depending on how much free space you have, you can choose collapsing blinds that flatten against the window frame, or solid blinds that slide along the wall.
Ideal Blinds For San Marcos Workplaces
Vertical blinds for office windows are a common choice and in adjoining lounges or waiting rooms. Because they slide left and right, you can adjust them to keep part of the room dark while illuminating the rest. Perfect to protect electronics, screens, and the eyes of your customers while keeping the room sunny and airy overall! For a larger office suite, you might want to think about motorized vertical blinds as well. See below for more about those.
Vertical Blinds For Rooms And Patios
In addition to living room, kitchen, or bedroom windows, you might want to put vertical blinds on your sliding glass doors. Patio and balcony doors, like the longer windows that do well with vertical blinds, have a long, wall-to-wall area to cover. They also usually already have a set of tracks to move along; we can install some more alongside them that much more easily!
Vinyl, Metal & Wooden Blinds
Here at Blinds & Shades San Marcos, we craft our custom vertical blinds from a range of different materials. When our team pays you the initial consultation visit and quote (free with every purchase!) they'll help you weigh the benefits of each. Wooden vertical blinds have an old-timey beauty to them and are durable and strong. Aluminum is water and stain proof, and very lightweight and easy to move. Vinyl blinds are inexpensive, flexible, and come in the widest variety of colors and styles. It all depends on your tastes and priorities, as well as where in San Marcos you need them installed!
Vertical Blinds Installed With Curtains Or Motors
While blinds on their own can be functional and pleasant looking, you can do much more with them. Vertical blinds with curtains, for example, lets you mix and match the filtered light of the fabric with the adjustable blinds between blind panels. Motorized vertical blinds, meanwhile, are controllable with the push of a button, or even without you doing anything! Blinds & Shades San Marcos's timer, sensor, and remote handset controlled motorized blinds are all at your disposal.
Free Estimates On Custom Blinds In San Marcos
Your tailor-made vertical blinds are waiting for you, and the prices won't get any lower! Want blackout blinds to cover sliding glass doors or skylights? We can make vertical blinds from metal, vinyl, wood and even a range of faux wood materials. Contact Blinds & Shades San Marcos today to schedule a free consultation and see what a wide range of options you can choose for your local business or home.