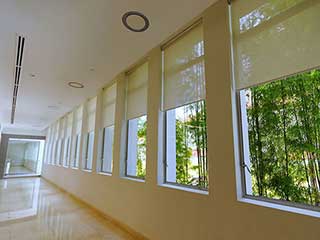 So why are blinds and shades so important for commercial properties as well as residential ones? Every business needs to be sure it's providing a comfortable space. Looking after customers and employees alike is essential, and one of the most crucial elements you'll have to consider is natural light. It can make the difference between a comfortable and productive workplace and one that's hard to concentrate in, and make customers feel right at home.
Controlling Natural Light
Sunlight is important in any building; artificial lighting can't make up for the wide spectrum of natural light, nor the warmth it provides. Making the most of this is essential. You have to work with what you've got, because you can't exactly ask the sun to shine brighter or dimmer, and it's expensive to install new windows. This means you need to choose your window coverings carefully to ensure you're making the most of the available light. Some types of shades will allow you filter harmful UV rays but still let in natural light.
Window Covering Problems
You may think that window treatments are an easy thing to get right, but there are plenty of problems you can encounter. Choose the wrong blinds or shades, and you may well find that your employees are working in dim and dingy conditions. Low light levels mean anyone looking at a bright screen will probably develop eye strain, making it hard for them to work effectively. On the other hand, if too much sunlight gets through the shades, it can cause screen glare, which will be just as bad. The best way to avoid these issues is to consult with professionals about which types of blinds and shades will best suit your specific needs.
Look After Your Customers
As mentioned earlier, too little light is a common problem when the wrong window treatments are chosen, but too much can also cause issues. Sunlight that isn't properly controlled can cause painful glare; diners who come to your restaurant and have to squint all the way through the meal will probably not enjoy their experience. Too much sunlight can easily cause headaches, so it's important to have a way of easily controlling it, whether its via a set of blinds or a large window shade.
Find The Best Window Coverings Near You
Don't just guess at the right way to control light in your business. Contact Blinds & Shades San Marcos today and have a professional sit down with you for a free consultation. Our experts are ready to provide free on-site consultation on the best way to provide a happy, productive and welcoming environment at your premises.