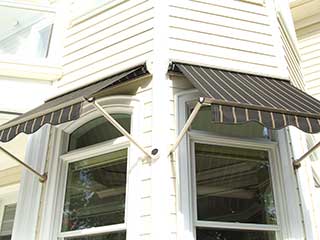 Automation of window treatments and wireless remote control options have become prevalent for residential and commercial properties alike. With smart window blinds, motorized using Somfy controls and Wi-Fi or Bluetooth technology, you can add efficient and effortless sunlight diffusion and blocking methods to any room. That, while also adding an aesthetic to the interior décor. As a leading option for motorized Somfy blinds in San Marcos, our technicians offer customers made-to-order shading solutions for windows, doors, patios, and glass walls. With remote control window coverings, you can control the climate indoors as well as natural light levels.
Smart Home Blinds
To make the most out of the smart Somfy blinds systems, you can connect motorized window treatments to your smart home. With automated shading solutions synced with the monitoring systems of your residence, you can maintain a pleasant indoor ambiance at all times. From controlling sunlight diffusion to keeping indoor temperatures at comfortable levels, Somfy smart window blinds you're your San Marcos home tremendous quality of life improvements. And the same goes for smart office spaces too. Wi-Fi networks can integrate motorized Somfy blinds control options for the ultimate convenience.
Motorized Roller Window Shutters
Enjoy better privacy and security with strong motorized window shutters controlled by Somfy systems. While some prefer window blinds motorization or roller shades, shutters offer a stronger solution. Motorized shutters for windows provide quick and silent-running coverings that can fit with the décor of any room. Need to cover sliding glass doors or window walls? San Marcos's best Motorized Somfy window shutters can serve as the perfect solution. Choose from different materials and smart control methods to get the ideal options for your needs.
Somfy Blinds For San Marcos Windows
We have the perfect solutions for shading windows and smart climate control. Incorporate motorized window blinds, shades, or shutters with your smart home system and enjoy all the technologically advanced features. For more information on San Marcos Somfy blinds installation and the different options available, book an appointment for a free estimate. Consult with our local motorized Somfy solutions experts to see why smart blinds are the way to go!